Carrot Podi Dosa Recipe
A delicious dosa with a filing of grated carrots and Idli Milagai podi that can be served along with sambar and chutney for delicious sunday breakfast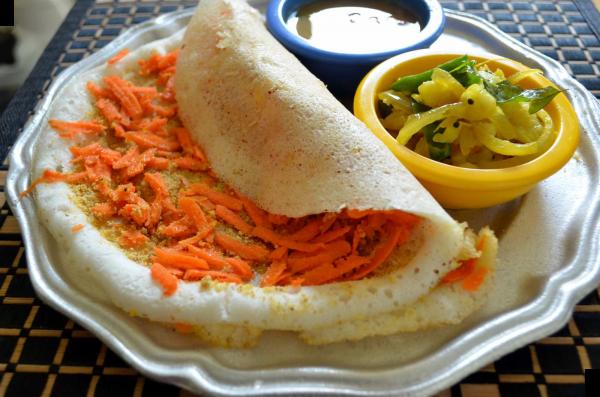 Dosa is a delicious breakfast crepe made in the Southern part of India. Different varieties of Dosa are available. Podi dosa is a famous variation where spicy mixed lentils dry powder is sprinkled on the crepe while cooking to give the dosa more flavor. In this recipe of Carrot Podi Dosa we have added a slight twist by upping the nutrition with the addition of grated carrots.Serve the Carrot Podi Dosa along withThakkali Vengayam SambarandDhaniya Pudina Chutneyfor a filling breakfast.Other recipes that you can try are:Oatmeal Dosa Recipe (Savoury Oatmeal Breakfast Crepes)Muttai Dosa Egg Roll DosaMagalorean Neer Dosa Recipe (Savory Rice & Coconut Crepe)
Characteristics
| | |
| --- | --- |
| Cuisine | South Indian Recipes |
| Course | South Indian Breakfast |
| Diet | Vegetarian |
Time & Servings
| | |
| --- | --- |
| Prep Time | 10 min |
| Cooking Time | 20 min |
| Total Time | 30 min |
| Servings | The recipe yields 4 Servings |
Ingredients you need to prepare Carrot Podi Dosa
2 cups Idli Dosa Batter
Idli Dosa Podi (Milagai Powder) - as needed
3 Carrots (Gajjar) - grated
Sunflower Oil - as needed for cooking dosa
How to make Carrot Podi Dosa
To start making Carrot Podi Dosa, in a small bowl, add grated carrots along with required Idli podi (according to the spice you need), stir well and keep aside.Heat up the dosa griddle on medium heat.
Pour a ladleful of dosa batter, spread the batter in a circular motion inside out to form a circular crepe.Drizzle some oil on the sides and allow the dosa to cook a bit.
Sprinkle the prepared carrot podi mixture on top of dosa, cover the pan and allow the carrots to steam for a few minutes.Once done, you will notice you have a crisp browned based with steamed carrots.Fold the dosa.Serve the Carrot Podi Dosa along with Chow Chow Sambar and Amla / Nellikai chutneyfor a filling breakfast.
Explore Related Recipes
Explore delicious recipes, pro cooking tips, & food inspiration. Join us in celebrating the joy of food & embracing culinary art.
Copyright © FoodyMummy. All rights reserved.