Carrots Dill and Peanut Sadam - South Indian Style Stir Fried Rice
Carrots And Dill Mixed Rice is delicious combination of rice tossed along with grated carrots, freshly chopped dill leaves and toasted peanuts and sesame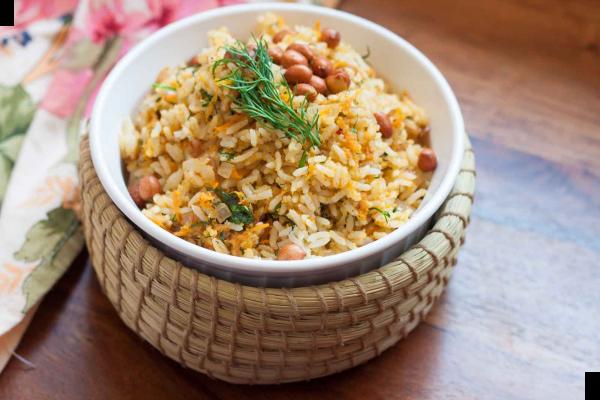 Carrots Dill and Peanut Sadam is lovely stir fried rice recipe tossed with some grated carrots and fresh Dill Leaves that can be put together in no time. The peanuts and sesame seeds give this dish a lovely nutty flavour.Fresh dill leaves have great health benefits - it aids the body in digestion, and provides relief from insomnia. Carrots on the other hand contain Vitamin A that assists the liver in flushing out the toxins from the body. Peanuts are rich in proteins and contain high amount of antioxidants.Serve Carrots Dill and Peanut Sadam withSweet & Spicy Coriander Tadka Raitaand Elai Vadam for a simple and lovely weekday lunch or even pack into office lunch box and kids lunch box as well.If you like this recipe Carrots Dill and Peanut Sadam, here are some more recipes with Dill leaves in themKarnataka Style Sabsige Soppu Akki Rotti (Dill leaves and flattened Rice Bread Recipe)High Protein Broccoli and Dill Stuffed Paratha RecipeSuva Methi Baingan Sabzi Recipe ( Eggplant in Dill and Methi leaves Curry Recipe)
Characteristics
| | |
| --- | --- |
| Cuisine | South Indian Recipes |
| Course | Lunch |
| Diet | Vegetarian |
Time & Servings
| | |
| --- | --- |
| Prep Time | 15 min |
| Cooking Time | 15 min |
| Total Time | 30 min |
| Servings | The recipe yields 3 Servings |
Ingredients you need to prepare Carrots Dill and Peanut Sadam - South Indian Style Stir Fried Rice
2 cups Rice - fully cooked
1 tablespoon Sesame (Gingelly) Oil
1 teaspoon Mustard seeds
pinch Asafoetida (hing)
2 sprig Curry leaves
1 teaspoon White Urad Dal (Split)
1 teaspoon Chana dal (Bengal Gram Dal)
6 tablespoons Raw Peanuts (Moongphali)
1 tablespoon Black sesame seeds
1/2 tablespoon Sesame seeds (Til seeds) - white
3 Dry Red Chillies
2 tablespoons Fresh coconut - grated
1 Onion - finely chopped
1 cup Carrots (Gajjar) - grated
1/2 cup Dill leaves - washed and chopped
How to make Carrots Dill and Peanut Sadam - South Indian Style Stir Fried Rice
To begin making the Carrots Dill and Peanut Sadam, in a pan, dry roast 3 tablespoons of peanuts, white til seeds, black til seeds, and red chilies until fragrant.Once the nuts are toasted, turn off flame and set aside to cool.In a mixer jar, add coconut along with all the toasted peanuts and sesame seeds.
Grind to a coarse mixture.In a kadai, heat oil on medium flame.Add the remaining 3 tablespoons of peanuts, urad dal, chana dal, and fry till the peanuts are well roasted and the dal has turned golden brown on crisp.
Ensure you roast on low to medium heat.Once roasted, add the curry leaves, saute for a few seconds and add the onions, and saute until the onions soften.Once the onions soften, add the grated carrots and dill leaves, sprinkle some water and cover and cook for about 5 minutes until the carrot has softened.Finally add in the ground peanut-til and coconut mixture, dill leaves and cooked white rice and give it a good stir. Add salt to taste and cover the pan and simmer so theCarrots Dill and Peanut Sadam will absorb all the flavors.After about 3 to 4 minutes of simmering, turn off the heat and serve.Serve Carrots Dill and Peanut Sadam withSweet & Spicy Coriander Tadka RaitaandElai Vadamfor a simple and lovely weekday lunch.
Explore Related Recipes
Explore delicious recipes, pro cooking tips, & food inspiration. Join us in celebrating the joy of food & embracing culinary art.
Copyright © FoodyMummy. All rights reserved.