Curried Couscous Recipe
Curried Couscous, is a Non African staple food which is very easy to cook and takes very less time to prepare.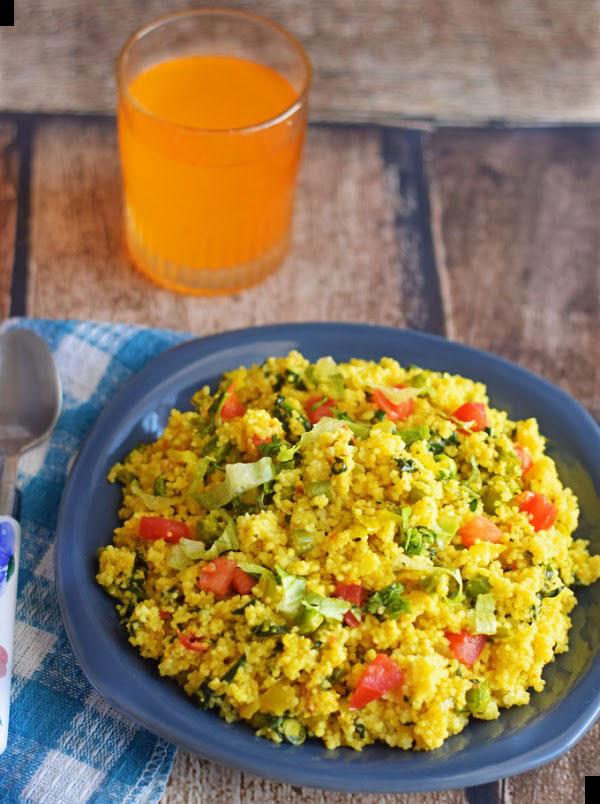 Couscous are small granules of semolina and a very popular North African staple food. Curried Couscous, a healthy and filling food is very easy to cook and takes very less time to prepare. This dish is a combination of cooked vegetables and is mixed with steaming hot couscous.Serve Curried Couscous with Watermelon Carrot Radish juice for a healthy breakfast.If you like this recipe, you can also try Broken wheat and mixed millet upmaand Quinoa and Vegetable Saute.
Characteristics
| | |
| --- | --- |
| Cuisine | Continental |
| Course | World Breakfast |
| Diet | High Protein Vegetarian |
Time & Servings
| | |
| --- | --- |
| Prep Time | 10 min |
| Cooking Time | 20 min |
| Total Time | 30 min |
| Servings | The recipe yields 2 Servings |
Ingredients you need to prepare Curried Couscous
1 cup Couscous
1/2 cup Spinach - chopped
1/4 cup Green beans (French Beans) - chopped
1/4 cup Green peas (Matar)
1/4 cup Celery - chopped
1 Onion - chopped
1 Tomato - chopped
2-3 cloves Garlic - minced
1/4 cup Curd (Dahi / Yogurt) - beaten
1/2 teaspoon Turmeric powder (Haldi)
1/2 teaspoon Curry powder
Salt - to taste
1/2 teaspoon Paprika powder
2 tablespoon Extra Virgin Olive Oil
How to make Curried Couscous
To begin with Curried Couscous, heat 1 tablespoon olive oil in a pan and add garlic and onions.Saute for a minute or until the onions are light brown in colour.
Now add green beans, peas, celery, spinach and tomato.Cover it with a lid and cook it for 2-3 minutes just to make the vegetables a little tender.Meanwhile, boil 2 cups of water with salt and one tablespoon of olive oil.In a mixing bowl add couscous and the boiled water.
Let it sit for 7-8 minutes.
Stir with fork to separate the grains.Add yogurt, turmeric powder, curry powder and paprika powder to the vegetables.
Remove from heat and add the veggies to the cooked couscous.
Mix it properly and your dish is ready to be served.Serve Curried Couscous withWatermelon Carrot Radish juicefor a healthy breakfast.
Explore Related Recipes
Explore delicious recipes, pro cooking tips, & food inspiration. Join us in celebrating the joy of food & embracing culinary art.
Copyright © FoodyMummy. All rights reserved.