Dates Chocolate & Nut Balls Recipe (Energy Balls)
Nutritious and delicious energy-giving snack, these date and nut truffles are easy to make, use readily available ingredients and make wonderful travel-friendly snacks.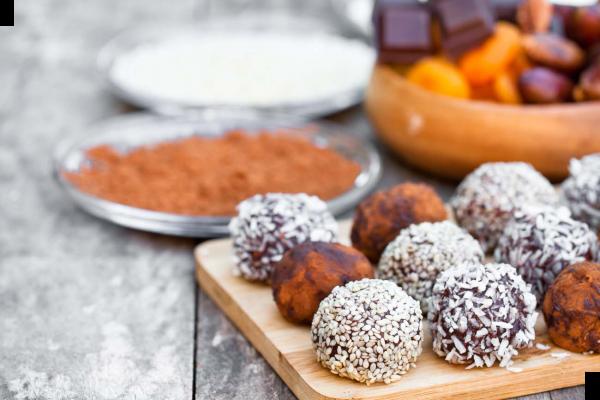 Dates Choco Balls Recipe is a no-bake, easy dessert-snack that gets made with little effort and is nutritious too. It is perfect to add to your childs snack box or to keep as tea-time treat too. These little balls are a great way to get an energy boost when you need it. Bite-sized and perfect to carry when travelling too, they are sweetened by dates instead of sugar making them even better for you and your family. Pop them into lunch boxes, snack on them after exercise and use them to satisfy your sweet cravings too.Did you know: Thanks to being loaded with health benefits, dates have gained the name of being one of the best ingredients for muscle development and a great alternative sweetener with nutritive value. They are an excellent source of energy, sugar and fibre all in one. Along with vital minerals like calcium, iron, phosphorus, sodium, potassium, magnesium and zinc, dates also contain vitamins such as thiamin, riboflavin, niacin, folate, vitamin A and vitamin K. A couple of dates are known to significantly boost energy levels almost instantly after consuming them. Dates also help in relieving constipation, intestinal disorders, heart problems, anemia, sexual dysfunction, diarrhea, abdominal cancer, and many other conditions.If you like this recipe, you can also try other Energy Bars such asDate Brownie Energy Bars RecipeNo Bake Marie Biscuit Energy Bars RecipeNo Bake Oats Energy Bites Recipe
Characteristics
| | |
| --- | --- |
| Cuisine | Continental |
| Course | Snack |
| Diet | Vegetarian |
Time & Servings
| | |
| --- | --- |
| Prep Time | 10 min |
| Cooking Time | 30 min |
| Total Time | 40 min |
| Servings | The recipe yields 2 Servings |
Ingredients you need to prepare Dates Chocolate & Nut Balls (Energy Balls)
500 grams Dates - seedless
30 Cashew nuts
30 Badam (Almond)
30 Pistachios
2 tablespoons Cocoa Powder
1/4 cup Sesame seeds (Til seeds) - roasted (or cocoa powder or coconut)
2 tablespoons Ghee
How to make Dates Chocolate & Nut Balls (Energy Balls)
To begin making the Dates Choco Balls Recipe, first grind the seedless dates in a food processor or your mixer.
Grind the dates to a fine paste without adding any water.Next, chop the cashew nuts, almonds and pistachios into small pieces and keep them aside until later use.In a non-stick flat bottom pan heat 1/2 tablespoon ghee and roast the nuts on a low-medium heat.
Take care to roast them gently so they turn golden and aromatic, but not burn.
Take them out of the ghee and set them aside.In the same pan heat the remaining 1/2 tablespoon of ghee and add the ground date paste and saute it for 2-3 minutes.
Then, take it off the heat.Now add the roasted cashew nuts, almonds, pistachios, along with the cocoa powder, to the date mixture and combine it all.
Allow the mixture to cool down.Once it is cool enough to handle, shape of your choice.
You can roll the date chocolate mixture into lemon-sized balls for convenience.
Then, roll them over sesame seeds, or coconut or even cocoa powder and store refrigerated for a couple of weeks.Making the Date Chocolate Balls bite-sized makes it convenient to carry when travelling too, or to gift them for the festivals like Diwali.
You can also pop them into lunch boxes, snack on them after exercise and use them to satisfy your sweet cravings too.
Explore Related Recipes