Hash Browns With Chives Recipe
A delicious potato and cheese hash brown with chopped chives for a delicious breakfast.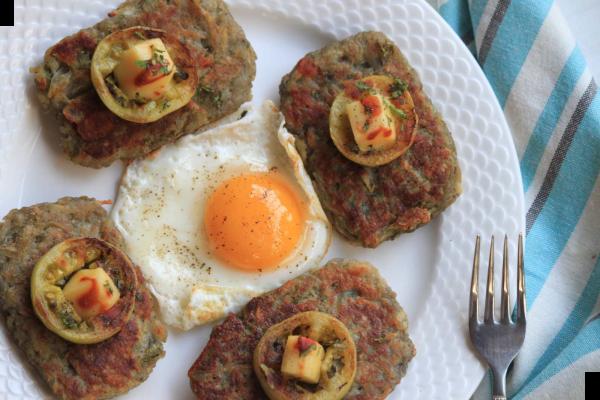 Have you tried making Continental, homemade hash browns for breakfast? Please do, here is one healthy potato recipe for you to try today, served with a poached egg that perfectly pairs when served with bread toast and a glass of orange juice. Use red potatoes for better taste and to make it a non vegetarian by adding chopped bacon strips for that restaurant style taste. Lovely Sunny day breakfast to make for your family.ServeHash Browns With Chives with Toast,Homemade Fresh Orange JuiceandSpinach Omeletteon the side for a delicious breakfast.If you like this recipe, here are a few more continental breakfast options.Hash Brown With Spinach & Cheese RecipeApple Vanilla Whole Wheat Pancakes RecipeWhole Wheat Waffles with Caramelised Bananas (Egg and Eggless Recipe)
Characteristics
| | |
| --- | --- |
| Cuisine | Continental |
| Course | World Breakfast |
| Diet | Eggetarian |
Time & Servings
| | |
| --- | --- |
| Prep Time | 20 min |
| Cooking Time | 20 min |
| Total Time | 40 min |
| Servings | The recipe yields 4 Servings |
Ingredients you need to prepare Hash Browns With Chives
4 Potatoes (Aloo)
2 Whole Wheat Brown Bread
1 Whole Egg - beaten
1 cup Cheese - grated
2 tablespoons Chives - chopped
Salt and Pepper - for seasoning
1 Whole Egg - for poaching
2 Tomato - thick slices
1 teaspoon Butter
3 teaspoon Extra Virgin Olive Oil
5 Cheddar cheese - cubes
Sea salt - to taste
How to make Hash Browns With Chives
To begin making Green Tomato Hash Browns And Egg Poach Recipe, first peel the potatoes and grate it into a bowl.
Rest the grated potatoes for ten minutes and squeeze out the juice from the potatoes.Cut the bread in tiny pieces and add to potatoes.
You can also tear up the bread and add them.Add in the salt and pepper, chopped chives and grated cheese into the bowl of grated potatoes.Add the beaten egg and mix all the ingredients well.Take a handful of the mixture and shape it like a hash brownsHeat a skillet on a low-medium heat with some butter and oil and place the hash browns.
Cook on both sides and this process will take up to 15 minutes.
Once the hash browns have browned on all side, take off the skillet and place it on kitchen paper towel for the oil to drain.Cut the Green Tomatoes into thick round pieces.
Remove the seeds and centre of the tomato and place cheese cubes in it.On the same skillet, heat some butter and oil, fry the tomatoes with cheese for one minute on medium heat.
Take off from the heat and place it on a serving dish.Serve the tomatoes on top of the hash browns and sprinkle pepper on top.Serve Hash Browns With Chives with Toast, Homemade Fresh Orange Juice and Spinach Omelette on the side for a delicious breakfast.
Explore Related Recipes
Explore delicious recipes, pro cooking tips, & food inspiration. Join us in celebrating the joy of food & embracing culinary art.
Copyright © FoodyMummy. All rights reserved.