Kali Mirch Aloo Bhindi Sabzi - Aloo Bhindi Pepper Fry Recipe
50+ Collection of South Indian Dry Vegetable Sabzi from TamilNadu Poriyal Recipes, Andhra Koora Recipes, Kerala Thoran Recipes, Karnataka Palya Recipes & more.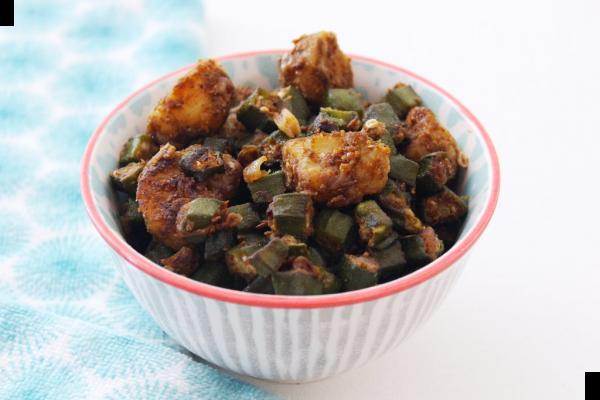 TheKali Mirch Aloo Bhindi Sabzi Recipeis a delicious and simple recipe, where the potatoes and bhindi are tossed in freshly ground black pepper and jeera powder. The addition of black pepper and jeera, powder adds a very refreshing taste to the palate.Did you know:Okra or Ladies Finger is a low-calorie vegetable and contains no saturated fat or cholesterol. They are rich sources ofdietary fiber, minerals, and vitamins; often recommended by nutritionists in controlling cholesterol and weight reduction programs.Serve the Kali Mirch Aloo Bhindi Sabzi Recipealong with Steamed Rice, Garlic Rasam, and Carrot Cucumber Tomato Salad Recipe for a simple yet flavoursome weeknight dinner.If you like this recipe, here are a few more bhindi/ ladies finger recipes for your vegetarian lunch/dinner:Maharashtrian Style Bharli Bhindi RecipeAloo Bhindi Ki Sabzi RecipeMangalorean Style Bendekayi Huli Koddel Recipe
Characteristics
| | |
| --- | --- |
| Cuisine | North Indian Recipes |
| Course | Lunch |
| Diet | Vegetarian |
Time & Servings
| | |
| --- | --- |
| Prep Time | 10 min |
| Cooking Time | 20 min |
| Total Time | 30 min |
| Servings | The recipe yields 4 Servings |
Ingredients you need to prepare Kali Mirch Aloo Bhindi Sabzi - Aloo Bhindi Pepper Fry
3 Potatoes (Aloo) - boiled
2 cups Bhindi (Lady Finger/Okra) - cut into 1/2 an inch
1/2 teaspoon Turmeric powder (Haldi)
1 teaspoon Cumin seeds (Jeera)
1 Onion - finely chopped
2 tablespoons Sunflower Oil
Salt - to taste
2 teaspoons Cumin seeds (Jeera)
2 teaspoons Whole Black Peppercorns
How to make Kali Mirch Aloo Bhindi Sabzi - Aloo Bhindi Pepper Fry
To begin making Kali Mirch Aloo Bhindi recipe, add the potatoes with 1 cup water in a pressure cooker and cook for 3 to 4 whistles.
Allow the pressure in the cooker to release naturally.Once the potatoes are cooled down, peel the potatoes and cut them into small cubes.
Keep it aside.Make a fine powder of cumin seeds and peppercorns using a mixer grinder.
Keep aside.Heat oil in a heavy bottomed pan.
Once the oil is hot, add the cumin seeds and allow it to crackle.Add the finely chopped onion and saute until it turns soft and translucent - about a minute.Once the onions are softened, add bhindi, sprinkle some saltand saute until the sliminess goes away. Keep the bhindi slightly covered, this will help the bhindi cook faster with the steam.At the same time, since the lid is slightly ajar, it will help the steam escape and prevent sliminess.Once the bhindi is cooked, add the boiled potatoes, turmeric powder andpowdered black peppercorns and cumin powder and saute till the Kali Mirch Aloo Bhindi Sabzi turns a bit crispy.This would take about 3 to 4 minutes.Check the salt and adjust accordingly.Once the Aloo Bhindi turns a bit crispy and gets well coated with the cumin-pepper powder turn off the heat and serve hot.Serve the Kali Mirch Aloo BhindiSabzialong with Steamed Rice, Garlic Rasam, Elai Vadamand Carrot Cucumber Tomato Salad with Lemon and Coriander Recipe for a simple yet flavoursome weeknight dinner.
Explore Related Recipes
Explore delicious recipes, pro cooking tips, & food inspiration. Join us in celebrating the joy of food & embracing culinary art.
Copyright © FoodyMummy. All rights reserved.