Methi Murgh Recipe - Chicken with Fenugreek Leaves
Methi Murgh is a delicious recipe where chicken is cooked in fresh methi leaves. Serve it with Tawa Paratha and Burani Raita for a weekday dinner.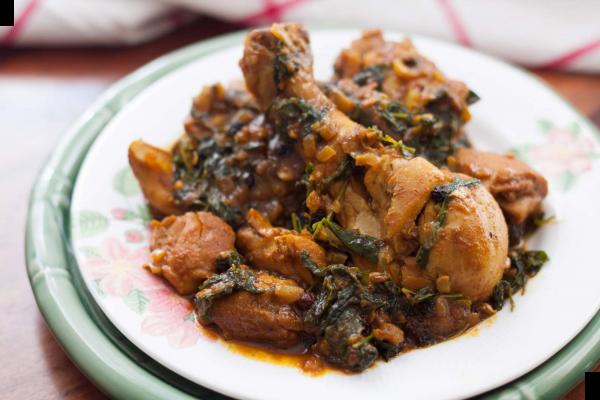 Methi Murgh Recipealso known as Chicken with Fenugreek Leaves Recipe is a classic combination of chicken and fenugreek leaves. The chicken is cooked in fresh methi leaves that compliments really well with the tender chicken.The chicken gravy also contains some caramelized onions and Indian masala that is cooked till they develop delicious flavours. In this recipe, we have omitted curd or dahi and made it simple with Indian masala. The dish still tastes better and turns out to be dairy free.Serve the Methi Murgh Recipealong with Tawa Paratha and Burani Raitato make a delicious meal for your dinner.If you are looking for more Chicken recipes, here are some easy chicken recipes that you can make for your everyday meals:Arabian Chicken Mandi RecipeCreamy Butter Chicken RecipeChettinad Pepper Chicken Dry Recipe
Characteristics
| | |
| --- | --- |
| Cuisine | North Indian Recipes |
| Course | Lunch |
| Diet | High Protein Non Vegetarian |
Time & Servings
| | |
| --- | --- |
| Prep Time | 10 min |
| Cooking Time | 45 min |
| Total Time | 55 min |
| Servings | The recipe yields 4 Servings |
Ingredients you need to prepare Methi Murgh - Chicken with Fenugreek Leaves
200 grams Chicken - with bones
1 cup Methi Leaves (Fenugreek Leaves) - washed
2 Onions - sliced
2 Tomatoes - chopped
2 cloves Garlic - crushed
1 inch Ginger - chopped
1 teaspoon Fennel seeds (Saunf)
1 inch Cinnamon Stick (Dalchini)
1 teaspoon Whole Black Peppercorns
2 teaspoon Red Chilli powder
1/2 teaspoon Turmeric powder (Haldi)
2 teaspoon Garam masala powder
1 teaspoon Cumin powder (Jeera)
Salt - to taste
Sunflower Oil - as required
How to make Methi Murgh - Chicken with Fenugreek Leaves
To begin making the Methi Murgh Recipe, we will first heat oil in a heavy bottomed pan.Add cinnamon stick, shahi jeera and peppercorns, allow it to splutter for few seconds.
Add in ginger and garlic and cook until it softens.
This will take about 2 minutes.Add chopped onions and saute till they turn golden brown.
Add tomatoes and sprinkle with little salt and cook till they turn mushy.Add washed and cleaned chicken pieces, turmeric powder, garam masala powder, cumin powder, red chilli powder and let it cook for about 8 to 10 minutes.Add cleaned fenugreek leaves and add about 1/2 cup of water, cover it with the lid and allow the chicken to cook for some more time.Open the lid and keep cooking until the water has evaporated and you are left with a thick gravy.Serve theMethi Murgh Recipealong withTawa ParathaandBurani Raitato make a delicious meal for your dinner.
Explore Related Recipes
Explore delicious recipes, pro cooking tips, & food inspiration. Join us in celebrating the joy of food & embracing culinary art.
Copyright © FoodyMummy. All rights reserved.