Mutton Galouti Kebab Recipe
Make these delicious Kebabs from North India and we are sure you will make it again and again. The kebab has minced mutton kheema that is mixed along with Indian spice powders and papaya to help it tenderises the meat. The soft and juicy kebab can be served along with Pudina chutney and Pickled onions as a starter.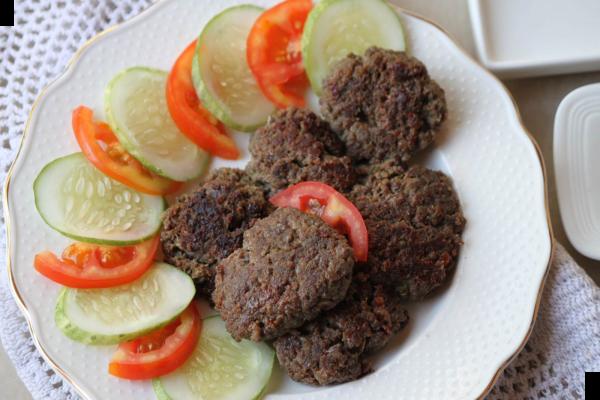 Kebabs are heartwarming, delicious, satisfying appetizers. One similar of this nature is the melt in the mouth and very famous Mutton Galouti Kebab from Lucknow cuisine. When one makes it at home it definitely tastes different, try not to fry in clarified butter or dalda. Overnight marination results in firming up the membranes to make it extra melting.Make kebabs as many as possible for this new year party and enjoy the extra time to have fun with your friends and family as it is very simple to make.ServeMutton Galouti Kebab along with Dhaniya Pudina Chutney for your party appetisers.If you like this recipe, you can also try other Kebab Recipes that you can make for your parties:Hyderabadi Chicken Shikampuri Kebab RecipeVegetarian Shami Kebab RecipeCurried Tofu Kebabs Recipe
Characteristics
| | |
| --- | --- |
| Cuisine | North Indian Recipes |
| Course | Appetizer |
| Diet | Non Vegeterian |
Time & Servings
| | |
| --- | --- |
| Prep Time | 540 min |
| Cooking Time | 30 min |
| Total Time | 570 min |
| Servings | The recipe yields 4 Servings |
Ingredients you need to prepare Mutton Galouti Kebab
500 grams Mutton - minced
3 teaspoon Papaya - paste
2 teaspoon Cumin powder (Jeera)
1 teaspoon Coriander Powder (Dhania)
1 teaspoon Garam masala powder
1 Onion - chopped
2 teaspoon Ginger Garlic Paste
1/4 teaspoon Black pepper powder
2 tablespoon Gram flour (besan)
Mint Leaves (Pudina) - a handful
1 teaspoon Lemon juice -
Salt - to taste
1 teaspoon Ghee
Sunflower Oil - as required
How to make Mutton Galouti Kebab
To begin making the Mutton Galouti Kebab, first take a big bowl and mix the minced mutton, lemon juice, papaya paste, ghee and salt in a bowl and keep it aside for 10 minutes.In a blender add rest of the ingredients one by one - onions, ginger garlic paste, gram flour, mint leaves, cumin powder, coriander powder, garam masala and black pepper powder.
Blend it well with little or no water.Once all these ingredients have ground and combined well, add in the minced meat and blend well for second time until all ingredients combine well and is a smooth textureTransfer it in a container with a lid and refrigerate overnight or for 8 hours.
This helps in the mutton absorbing all the flavours of the spices.Take out this mutton mixture from the fridge after 8 hours, and prepare patties and keep it ready on the plate.Heat a grilled iron pan with some oil to coat the surface.
Place the Kebabs/patties and shallow fry on medium to low flame for about 10 on each side of the Kebab.
Fry the remaining kebabs too and serve hot.ServeMutton Galouti Kebab along withDhaniya Pudina Chutneyfor your party appetisers.
Explore Related Recipes
Explore delicious recipes, pro cooking tips, & food inspiration. Join us in celebrating the joy of food & embracing culinary art.
Copyright © FoodyMummy. All rights reserved.