Protein Fingers Recipe
Enjoy Protein Fingers along with Dill Leaves & Parmesan Dip during your dinner time or serve it as a snack in your house parties.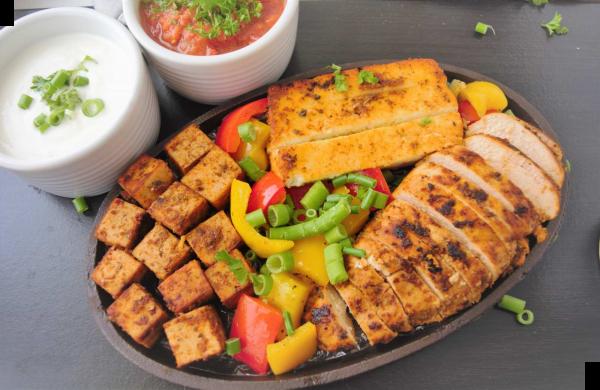 Here's a very simple and delicious way to feed your family protein and it's super quick to make too! All you need is your favourite protein, the marinade and a griller and that's it!You can eat these as a snack! You could put them inside a tortilla and throw in your choice of sauces and vegetables and you have yourself a nice tortilla roll!You could simply crumble them and stuff them inside two tortillas and some cheddar cheese, grill it and you have yourself a yummy and crispy Quesadilla.You could crumble them, stuff them inside a burger, line it with some tomatoes and lettuce, add a slice of cheese and a drizzle of mustard will give you a quick burger!Let me stop here and let you make these first and then we can talk about what more we can do with these very versatile protein fingers. Well you could just use the marinate for vegetables as well and make yourself a nice grilled vegetable salad too.Serve Protein Fingers along with Dill Leaves & Parmesan Dip during your dinner time or serve it as a snack in your house parties.If you like this recipe, you can also try other Chicken recipes such asPaprika Chicken Skewers RecipeSpicy Pepper Chicken RecipeMexican Chicken Fajita Recipe
Characteristics
| | |
| --- | --- |
| Cuisine | Continental |
| Course | Dinner |
| Diet | High Protein Non Vegetarian |
Time & Servings
| | |
| --- | --- |
| Prep Time | 20 min |
| Cooking Time | 10 min |
| Total Time | 30 min |
| Servings | The recipe yields 6 Servings |
Ingredients you need to prepare Protein Fingers
100 grams Paneer (Homemade Cottage Cheese) - cut in shape of a finger snack
100 grams Chicken - boneless and skinless breast piece with angular slits
100 grams Tofu - cubed
3 tablespoons Extra Virgin Olive Oil
1 tablespoon Garlic - minced
1/2 teaspoon Cumin powder (Jeera)
Salt - as per taste
1/2 teaspoon Black pepper powder
1/4 teaspoon Paprika powder
1/4 teaspoon Red Chilli powder
1/4 teaspoon Onion powder
1/4 teaspoon Garlic powder
1/2 teaspoon Dried oregano
1/4 teaspoon Sage
1 tablespoon Lemon juice
How to make Protein Fingers
To begin making the Protein Fingers recipe, make a marination with olive oil, garlic, cumin powder, salt, pepper, paprika, red chilli powder, onion powder, garlic powder, oregano, sage and lemon juice.Apply marinate on the protein and keep it for at least 20 minutes or overnight in the refrigerator.Grill the protein logs on a hot grill pan or flat griddle until slightly charred.If grilling chicken, you will need to cover it and cook initially on both sides until the juices run out and chicken is cooked.Remove the lid and char the chicken skin on high heat for a couple of more minutes.Cut the cooked chicken into thin slices.
Serve the protein fingers warm with sour cream or salsa.Serve Protein Fingers along withDill Leaves & Parmesan Dipduring your dinner time or serve it as a snack in your house parties.
Explore Related Recipes
Explore delicious recipes, pro cooking tips, & food inspiration. Join us in celebrating the joy of food & embracing culinary art.
Copyright © FoodyMummy. All rights reserved.