Red Beans And Oats Cutlet Recipe
Red Beans and Oats Cutlet recipe is a healthy snack idea packed with nutrients of red kidney beans and oats.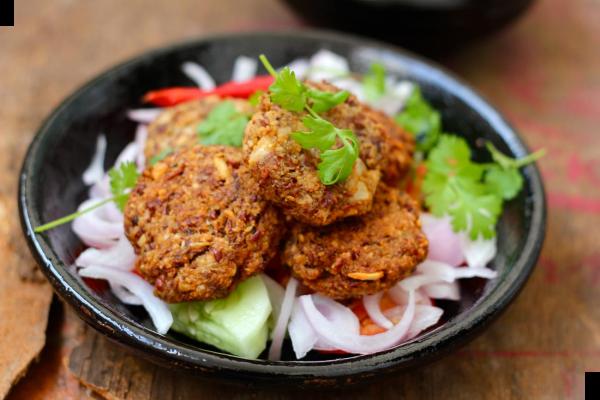 Red Beans and Oats Cutlet recipe is a healthy snack idea packed with nutrients of red kidney beans and oats. Oats are great source of soluble fiber and protein but sometime mother's find it challenging to include it in kids routine diet. With this cutlet recipe not only oats and beans can become part of your daily menu but they could be packed in kids lunch box as well for snacks. These cutlets can be enjoyed with green chutney or could be filled inside pita bread with salad to make sandwiches.Serve Red Beans and Oats Cutlet recipe as an evening snack along with Green Chutney and hot Ginger Cardamom Chai.If you like this recipe, here are more ideas to make in the eveningTamil Nadu Style Milagu Thattai Recipe (Peppered Dal-Rice Fritters)Classic Chettinad Seepu Seedai RecipePepper Murukku Recipe (South Indian Style Chakli)Bread Boats Recipe Filled With Spinach, Eggs And Sandwich Spread
Characteristics
| | |
| --- | --- |
| Cuisine | Indian |
| Course | Snack |
| Diet | Vegetarian |
Time & Servings
| | |
| --- | --- |
| Prep Time | 25 min |
| Cooking Time | 30 min |
| Total Time | 55 min |
| Servings | The recipe yields 4 Servings |
Ingredients you need to prepare Red Beans And Oats Cutlet
1/2 cup Rajma (Large Kidney Beans)
1/4 cup Soy granules
1/4 cup Instant Oats (Oatmeal) - more to dust
1 Onion - finely chopped
1 inch Ginger - grated
2 cloves Garlic - grated
Salt - as per taste
1 teaspoon Cumin powder (Jeera)
1/4 teaspoon Red Chilli powder
Coriander (Dhania) Leaves - small bunch
Sunflower Oil - for shallow frying the cutlets
How to make Red Beans And Oats Cutlet
To begin making the Red beans and Oat Cutlet Recipe, first clean, wash and soak red kidney beans in water overnight or for at least 7 - 8 hours.Make powder of oats in grinder.
Keep aside until required.In a pan boil 1 cup of water add soya granule bring to boil once.
Soya granules will puff up after one boil.
As soon as they swell up, turn off the heat and drain the soy granules using a colander and keep aside.Once red kidney beans are soaked, in a pressure cooker add beans along with 1 cup of soaked water.
Add salt, give it a nice stir, cover the pressure cooker and place its weight on.Cook the beans in the pressure cooker until you hear 4 to 5 whistles.
After 4 to 5 whistles, turn the heat to low and simmer the beans for another 15 minutes and then turn off the heat.Allow the pressure to release naturally.
Once the pressure is released, open the cooker and drain beans in a colander.
Keep beans in the colander until all the excess water is drained off.
You can use this water to add it in your vegetable stock or even soups or rice.To make the cutlets, in a large bowl add boiled beans, powdered oats reserving 2 tablespoon for dusting the cutlets, cooked soya granule, onion, salt, coriander leaves, red chili powder, cumin powder and salt to taste.
Mix nicely with dry fingers.
Divide the red bean and oat cutlet mixture in equal portions.
Grease your palms shape each portion into a flat round of 1/2 inch thickness.
Place the shaped cutlets on a tray or plate.
Keep them in the fridge for 10 minutes.After 10 minutes bring out the cutlets from the fridge and dust with 2 tablespoon of powdered oats.Next heat a heavy bottomed frying pan over medium heat to shallow fry the cutlets.
Place the oat coated cutlets on the heated pan, drizzle a teaspoon of oil over each of the red bean and oat cutlets.Shallow fry each of them until golden brown on both sides and with a slotted spoon drain the cutlets on an absorbent paper.ServeRed Beans and Oats Cutlet recipeas an evening snack along withGreen Chutneyand hotGinger Cardamom Chai.
Explore Related Recipes
Explore delicious recipes, pro cooking tips, & food inspiration. Join us in celebrating the joy of food & embracing culinary art.
Copyright © FoodyMummy. All rights reserved.