Roasted Garlic Tomato Chutney Recipe
Roasted Garlic Chutney Recipe is is made with pan roasted garlic, tomatoes and red chillies with added tadka and served as accompaniment with South Indian food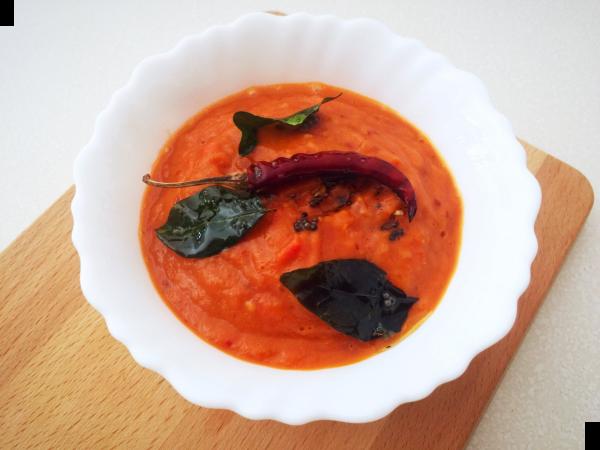 Roasted Garlic Tomato Chutney Recipe is a lip smacking accompaniment made by using garlic as a main ingredient. Fried Garlic Chutney is a spicy, tart and delicious chutney which goes pretty well with the south indian breakfast recipes. Serve theRoasted Garlic Tomato Chutney Recipe along with steaming hot Carrot & Cheese Filled Idli Recipeor Homemade Crisp Ghee Roast Dosasand Arachuvitta Sambar Recipefor South Indian breakfast.Did you know: Garlic is a magical ingredient with numerous health benefits. Regular intake of garlic in our diet can help us combat flu, reduce cholesterol, bring the blood pressure down and the antioxidants helps in fighting theAlzheimers disease and Dementia.If you like this recipe, here are a few more chutney recipes that are unique in India and must tryTomato Onion Chutney Thakkali Vengayam ChutneyZucchini Thogayal (Tangy and Spicy Zucchini Chutney)Green Coriander and Coconut Chutney RecipeCapsicum Chutney Recipe (Red Bell Pepper Chutney)
Characteristics
| | |
| --- | --- |
| Cuisine | South Indian Recipes |
| Course | Side Dish |
| Diet | Vegetarian |
Time & Servings
| | |
| --- | --- |
| Prep Time | 10 min |
| Cooking Time | 5 min |
| Total Time | 15 min |
| Servings | The recipe yields 4 Servings |
Ingredients you need to prepare Roasted Garlic Tomato Chutney
1 cup Garlic - cloves
1 Tomato
5 Dry Red Chilli
18 grams Tamarind - (small lemon sized)
1 teaspoon Sunflower Oil
Salt - to taste
1 teaspoon Sunflower Oil
1/2 teaspoon Mustard seeds
1 sprig Curry leaves
1 pinch Asafoetida (hing)
1 Dry Red Chilli
How to make Roasted Garlic Tomato Chutney
To begin making Fried Garlic Tomato Chutney Recipe, keep all the ingredients ready and remove the skin of garlic cloves.
Heat oil in a shallow fry pan, roast the dry red chillies and garlic cloves to golden brown and keep aside.In the same pan, roast the tomatoes, tamarind until the tomatoes turn pulpy and keep aside.Now grind the roasted garlic cloves, red chillies, tomato, tamarind and salt to a fine paste using a mixer grinder and take it our in a small serving bowl.To prepare the tadka, heat oil in a tadka pan, add the mustard seeds and let it splutter.Add the dry red chilli, curry leaves, asafoetida and let it crackle.Switch off the flame and add this tadka over the prepared chutney and mix well.Serve the Fried Garlic Tomato Chutney Recipe along withsteaming hotCarrot & Cheese Filled Idli RecipeorHomemade Crisp Ghee Roast DosasandArachuvitta Sambar Recipefor South Indian breakfast.
Explore Related Recipes
Explore delicious recipes, pro cooking tips, & food inspiration. Join us in celebrating the joy of food & embracing culinary art.
Copyright © FoodyMummy. All rights reserved.