Thengai Poli Recipe - Coconut Poli Recipe
Thengai Poli is a rich coconut filled sweet flatbread, popular in tamil nadu and Karnataka. Also known as Obbattu in Karnataka is perfect as a dessert after a south indian meal. It is usually made during festivals like Varalakshmi Vratham.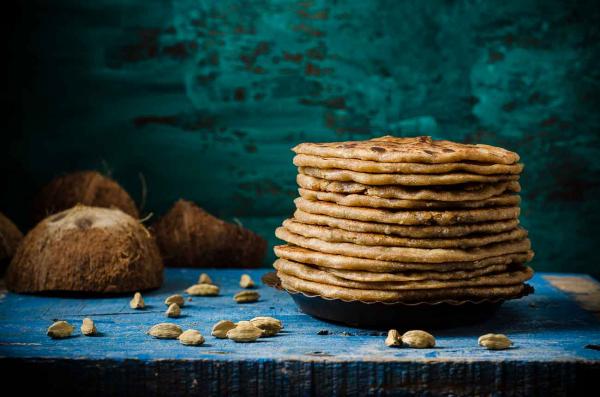 Thengai Poli is a classic sweet Indian flatbread stuffed with a filling of coconut and jaggery. Also known as Obbattu or holige in Karnataka, puran polis in Maharashtra.There are different fillings that go into a poli or obbattu. Sometime dal and jaggery mixture is filling in and sometime dal and coconut filling is stuffed in between to make the poli. Each house has their own style of making the Poli as well. Thengai Poli recipe is made with a coconut and jaggery filling. It is also made a little more wholesome and healthy by replacing some of the maida with whole wheat. While this lends it a slightly coarse or grainy texture, it is still delicious and has the deeply satisfying flavours of palm jaggery soaked coconut.Serve Thengai Poli for festivals such as Diwali, Navratri, Ganesh Chaturthi or even Janmashtami.Other Obbattu Recipes that you can try are:Surti Obbattu Recipe - Fruit & Nut Pooris In Saffron MilkSouth Indian Poli Recipe with Coconut (Obbattu/Bobbattu)Date Obattu Recipe (Date Puran Poli)de
Characteristics
| | |
| --- | --- |
| Cuisine | South Indian Recipes |
| Course | Dessert |
| Diet | Vegetarian |
Time & Servings
| | |
| --- | --- |
| Prep Time | 120 min |
| Cooking Time | 30 min |
| Total Time | 150 min |
| Servings | The recipe yields 10 Servings |
Ingredients you need to prepare Thengai Poli - Coconut Poli
3 cup Whole Wheat Flour
Salt - to taste
2 tablespoons Ghee
Water - as needed
250 grams Fresh coconut - grated
160 grams Palm jaggery - powdered
1 teaspoon Cardamom Powder (Elaichi)
1 teaspoon Ghee
How to make Thengai Poli - Coconut Poli
To begin making the Thengai Poli Recipe first sieve the wheat flour and salt together in a large mixing bowl.
Add watera little at a time to knead to make a soft dough.
Adding enough water is critical, so the dough is soft and pliable.
Add ghee and knead again.
Knead the dough well to form a smooth dough.
Once done make a smooth ball of the dough, cover the bowl and keep aside for 2 hours.In the meanwhile, prepare the sweet coconut filling.
To do this, first heat a pan and add 1 teaspoon ghee.
Next add the grated coconut, cardamom powder and palm jaggery to it.Stir well on a low flame for 5-8 mins till all the moisture is absorbed and the coconut mix comes together with the jaggery.
Once the poli filling mixture has come together, turn off the heat and allow the mixture to cool.When it has cooled, divide it into equal sized portions and form balls the size of medium lemons.Now, take the dough thats been resting and divide it into equal sized portions.Keeping a little flour for dusting handy on a plate; roll out the dough into 3 inch diameter circles.
Place a portion of the filling (puran) mixture into the center of the circle.
Bring edges of the circle towards the center and fold over to cover the entire filling; making sure the edges are all sealed well by pinching them together if there is any opening.Flatten the stuffed poli; dust the dough in a little flour and roll gently into a 5 to 6 inch diameter circle taking care not to put too much pressure as the filling can come out of the dough.
The Thengai Poli should be thin and not thick.
Once done, we will proceed to cook the poli.Preheat an iron skillet on medium high; place the rolled polis onto the skillet to cook until golden brown on both sides.
You can cook the poli's with ghee to give it a richer taste and flavor.Repeat the above process for all the remaining dough and puran portions and serve hot.You may store the Thengai Poli in an airtight container, in the refrigerator, once they have cooled.
They will keep well for a week at least.
However, if you are serving them on the same day, allow them to remain at room temperature.Thengai Poli if refrigerated is served by bringing it back to room temperature, slightly warming them in the microwave and served with a dollop of homemade ghee.Serve Thengai Poli for festivals such as Diwali, Navratri or even Janmashtami.
Explore Related Recipes
Explore delicious recipes, pro cooking tips, & food inspiration. Join us in celebrating the joy of food & embracing culinary art.
Copyright © FoodyMummy. All rights reserved.